Working with the public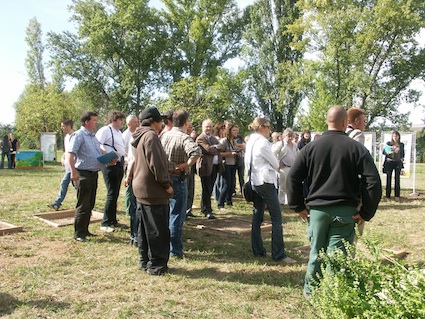 In order to change old mindsets, and to make people aware of the importance of maintaining the biodiversity of wild bees, the aim of Urbanbees is to reach out to as many people as possible. For each public event, the number of participants is estimated at the time of planning, and is updated as time goes by.
By the end of the five years, and thanks to the different events run by the programme, a large part of the inhabitants, children, politicians, and green space managers of Greater Lyon will have been exposed to our campaign about the importance of the conservation of wild bees.
Planned

Completed as of 31 december 2013

• 31 inauguration and information days at Urbanbees research sites

• 5500 people

• 16 inaugural days and 15 information days

• 3 713 people

• 40 conferences

• 3000 people

• 59 conferences

• 4 300 people

• 400 events in schools

• 6000 children, secondary school and university students

• 256 events

• 3 855 children, secondary school and university students

• Events welcoming volunteers

• 10 000 households involved

• 632 people have attended to 54 volunteer days

• 211 people have attended to 18 walks

• 1510 people awareness in 10 days exhibit outside

• 157 people attended to 8 workshops

• 85 people attended to the 10 training sessions to learn how to prepare specimens and work on the identification of families

• 15 nests workshops

• 26000 houses received the practical guide and bag of wild seeds.

• 30 training days for green space land managers

• 360 participants

• 9 training of 2 days for arboriculturists, farmers and futur farmers

• 13 trainings of 1/2 day for farmers and futur farmers

• 6 training of 2 days to staff from Meyzieu, Lyon and Ste Foy-lès-Lyon

=> Training of 752 people

• 58 elected environmental officials and green space land managers will be met

• 30 communes or districts are involved

• 46 elected environmental officials and green space land managers